What's Next For Public Health Advocacy?
April 6 @ 11:30 am

-

1:30 pm
A 2010 national survey found that constituents are more influential on legislator decisions than lobbyists or news editors. As experts in their field, frontline public health professionals are well positioned to educate legislators and advocate for public health funding, yet few engage with their legislators or community members about funding needs. It will take consistent, coordinated advocacy efforts over time to fully fund a modern, statewide public health system. Some Oregon legislators are strong public health allies. Others need exposure to public health principles and education about how public health investments deliver a high return on investment in the form of lower healthcare costs, reduced disease and injuries, and improved health outcomes.
As part of National Public Health Week, learn from Sierra Prior, MPH, Coalition of Local Health Officials (CLHO) about what you need to know in order to more fully engage in advocacy as citizens who are public health experts and how you can partner to make the case to your legislators to support funding for needed prevention services for the people throughout Oregon.
About Sierra Prior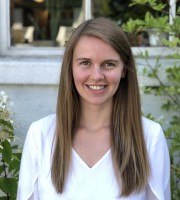 Sierra joined the Coalition of Local Health Officials (CLHO) as Program Manager in 2019. She earned her MPH in Health Management & Policy at Oregon State University. Shortly after graduating, she gained experience in political organizing while working on a statewide ballot measure campaign. In 2019, she served in the Oregon Legislature as a Legislative Assistant with a focus on communications, constituent casework, and health and human services policy analysis. Sierra also has emergency preparedness and program evaluation experience in local public health.
Please join us for this student-organized event as part of National Public Health Week!

Monday, April 6, 2020
11:30 a.m. – 1:30 p.m.
This is a virtual event via Zoom.

To join the Zoom meeting, visit https://pdx.zoom.us/j/875391427
To join by phone, dial 669-900-9128, or find your local number at https://pdx.zoom.us/u/abO6nbA9lE
Join by SIP: 875391427@zoomcrc.com
Meeting ID: 875 391 427
This event is co-presented by the Coalition of Local Health Officials and the OHSU-PSU School of Public Health.