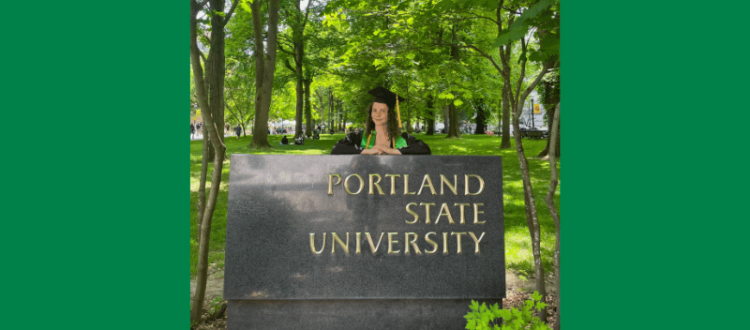 Sophia Kogan's academic journey has been a dynamic exploration of her passions and a testament to her dedication in addressing healthcare inequalities and promoting better health outcomes for all. From her initial interest in clinical pathology and passion for science in high school, Kogan's path led her to reevaluate her career choices and reflect on her genuine concern for public health and healthcare access.

Beginnings At PSU
During her time at Portland State University (PSU), Kogan embarked on a quest to find her true calling. She started with a major in Public Health but switched to biochemistry to work towards her future goals of being a clinical pathologist. She quickly realized that biochemistry didn't align with her interests, so she switched to majoring in biology.
Motivated by the COVID-19 pandemic, Kogan's passion for science intensified, particularly in the field of physiology. In revisiting her interest in Public Health, she started volunteering at a clinical setting and collaborated with the American Cancer Society on a project investigating healthcare inequities. She spent her time analyzing data and actively working on projects ignited her passion for Public Health, aligning with her diverse interests and inspiring her to pursue nursing as a profession.

Holistic Clinical Experience
Throughout her clinical rotations, Kogan embraced a holistic approach to patient care, acknowledging the social determinants of health and addressing underlying factors. This comprehensive perspective became the foundation of her approach, allowing her to consider the broader picture beyond individual clinical interactions.
"I realized that being involved in direct care wasn't as daunting as I had initially thought," said Kogan. The fear of being directly involved in patient care faded away, and Kogan's focus shifted towards addressing healthcare access.
Kogan attributes the childhood experience of visiting her great grandfather in a rural part of a country to her inquisition into solving the issues of inadequate access to healthcare. Her great grandfather and his community lacked access to healthcare due to their remote location, which resulted in an unfortunate consequence for many families. This inequality in healthcare access both locally and globally became a persistent thought in her mind. "I questioned how it was possible to have advanced technology but still lack adequate healthcare access," said Kogan.
With her new found discovery of her future trajectory, Kogan decided to add back a major in public health, which meant she double majored in public health and biology, plus she added a pre-clinical nursing track and honors college, and hasn't looked back.
Kogan faced significant challenges during her academic journey, including a critical moment where she almost dropped out of the honors college due to the complexity of a paper. However, through resilience, hard work, and determination, she bounced back, regained confidence, and even undertook a thesis project, deepening her understanding of research and the rhythm of honors studies.

Academic Support & Influence
Kogan's growth and academic support were greatly influenced by Professor Claire Wheeler, her thesis advisor and inspiration. Professor Wheeler's courses on communicable and chronic diseases, as well as mind, body, and women's health, motivated Kogan to pursue her passions. Kogan's personal experiences with migraines in her family and herself further fueled her dedication to making a positive impact in the field, addressing the burden of this invisible condition and decreasing its impact on individuals' lives.
The support Kogan received from the honors college, particularly from Director Brenda Glascott, proved invaluable. The tight-knit community within the honors college provided guidance and mentorship. Kogan's family, friends, and peers also played a significant role, offering unwavering support throughout her journey.

Looking Towards The Future
Looking toward her future career in Public Health, Kogan aspires to make discoveries that can be translated into real-world solutions. Her goal is to empower individuals to take control of their health by identifying actionable recommendations through research. Kogan is particularly interested in studying chronobiology in the lab, examining the impact of the circadian rhythm, and exploring the relationship between consistent sleep schedules and positive health outcomes. Her aim is to improve the well-being of individuals and populations facing similar challenges.
Kogan's academic journey has been shaped by her evolving interests, experiences, and a deep-rooted desire to address healthcare inequalities. Kogan's academic and research determination has landed her an acceptance into the Oregon Health & Sciences University (OHSU) School of Nursing, as well as a fully funded scholarship to earn her nursing to PhD degree for up to seven years. Her passion for science, commitment to Public Health, and dedication to making a positive impact in the lives of others will undoubtedly propel her towards a successful and fulfilling career.