Practice Experience Contacts
Coordinators
The Practice Experience is intended to provide students with an opportunity to demonstrate and apply their competency-based learning in a practice setting. Therefore, your registration in the Practice Experience must occur towards the end of your time in the MPH degree program. This timing allows you to apply newly gained skills, as well as the opportunity to reflect on your strengths and areas of needed development as you enter the field of public health.
You are free to choose the organizational setting. Our students have worked in city, county, state, and federal public health and public service agencies, public schools, urban and city planning organizations, and in non-governmental organizations, the public sector, health systems and Coordinated Care Organizations, and in academic programs that deliver community health interventions. As you think about potential placements, we recommend that you consider your professional goals, as well as the types of experiences and skills that you want to gain.
Please keep in mind that your role and responsibilities must be substantial and grounded in pre-identified competencies, and that simple shadowing and observing is not approvable for academic credit. In addition, you cannot engage in the delivery of clinical or social services, drive clients in your personal vehicle, advocate for pending public policy, or work on project data at home. The intent is for you to have an immersive experience as a member of a public health practice team outside of our OHSU-PSU School of Public Health (SPH). Your Faculty Advisor or other faculty with primary faculty appointments in the SPH cannot serve as your Site Preceptor, although you may work on projects that involve our faculty as team members.
You are responsible for finding a practice experience site. Students learn of potential placement opportunities from other students and recent alums, listservs and the SPH website, Faculty Advisors and program Practice Experience Coordinators/Instructors, and by attending the Oral Presentations of their fellow student peers. Before approaching a prospective site, make certain that you are prepared with a current resume or CV and can succinctly articulate your strengths and interests.
Once agreement has been reached on the potential scope of activities, then you will work with your Faculty Advisor and the Program Experience Coordinator/Instructor (depending on the MPH program) to assemble your Learning Contract, which is a form that includes the following elements:
Organizational description
Site Preceptor (supervisor)
Program description (mission and values)
Your specific role and responsibilities
Anticipated positionality and equity lens
At least three Foundational competencies to be addressed
At least two Programmatic competencies to be addressed
Mapping of competencies to completed coursework
Has signature approval from your Site Preceptor and Faculty Advisor
Due Week 5 of term prior to Practice Experience registration.
Practice Experience Registration Timeline
You may register in the Practice Experience after you have completed 36 credits in the program. It is also recommended that you have completed the CPH Exam prior to beginning your placement. You may take the entire 4 credits of Practice Experience in a single term, or split the credits 2-and-2 across two contiguous terms.
Your Learning Contract should be submitted to your program's Practice Experience Coordinator/Instructor by the end of the 5th week of the term prior to Practice Experience registration.
Please note that participation in research activities will require advance review and approval by the Institutional Review Boards of OHSU or PSU; please consult with your Faculty Advisor early. There is also a special approval process for Practice Experiences located outside of the country. Please see OHSU's Office of International Services or PSU's Education Abroad (depending upon at which University you register) and allow time for review and approval of the International Elective Approval & Travel Waiver of Liability.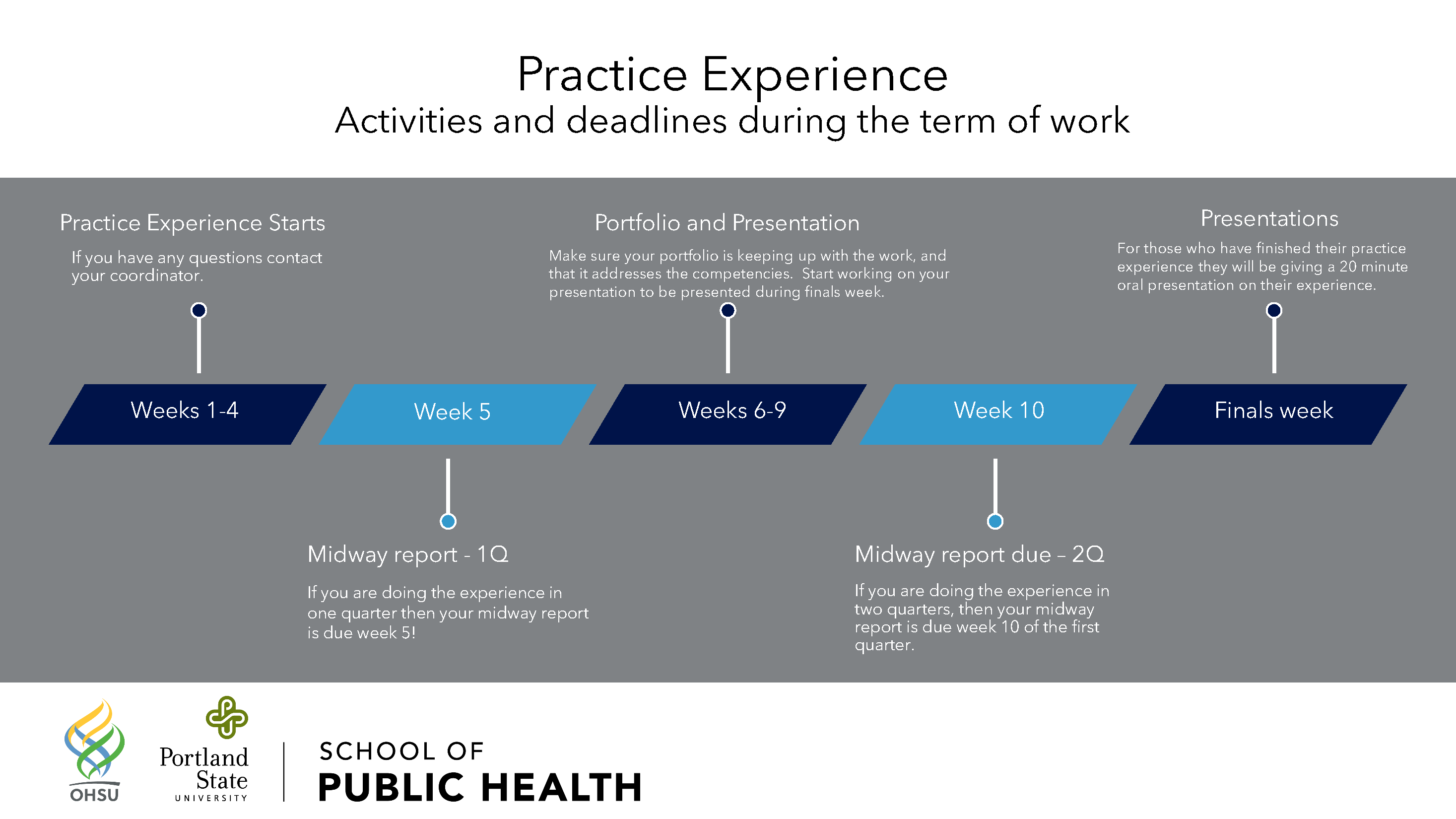 The Practice Experience is graded A-F and is based on the quality of the following work products:
Submission of the competency-based Learning Contract (by the end of the 5th week of the term prior)
Midway progress report to your Faculty Advisor and Practice Experience Coordinator/Instructor
Portfolio with resume or CV and work products and competency demonstrations
20-minute oral presentation (typically the Wednesday afternoon of Finals Week; not required for MPH-Biostatistics students who have an oral in their comprehensive exam)