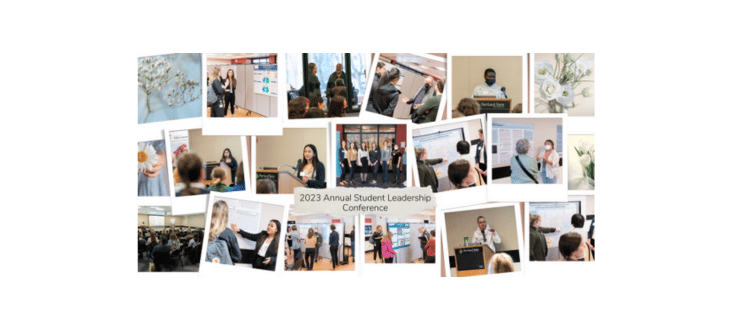 Student Leadership Conference Recap
The April 4th event at Smith Memorial Student Union was the first in-person congregation of SPH faculty, staff, students, and community members in 4 years. Hosted and organized by the Student Leadership Council, the 2023 event welcomed over 140 attendees throughout the day to celebrate student work in both oral presentation and poster form. Students from all levels of the school were welcome to participate, with undergraduates, masters, and doctoral students sharing work from their respective areas of interest. The entries varied in their scope, from undergraduate honors thesis projects to internship experiences to formal research studies.
The conference also included a keynote speech from Dr. Ryan Petteway, in which he shared the origins and development of his work in social epidemiology, woven with poetry and a sense of place. The event culminated with a session on Practicing Public Health in Oregon, organized by Dr. Jon Snowden and Dr. Eric Hall. This session included 4 alumni of the school and an OHA representative, sharing about their experiences in the Public Health Practice Team.
While the spirit of the conference is not to promote competition, some added incentive is offered by way of prizes. Faculty judges volunteer their time and expertise to offer feedback throughout the conference; the final rubrics were then collected and tallied. Winners received e-gift cards to Powell's!

Congratulation To This Years' Prize Winners!
Presentations:
Jesse Yarnold
Laura Jacobson
Grace Parra

Posters:
Jennifer Piacentini
Vivian Le Duong
Emma VanderMeulen & Ruby Mitchell