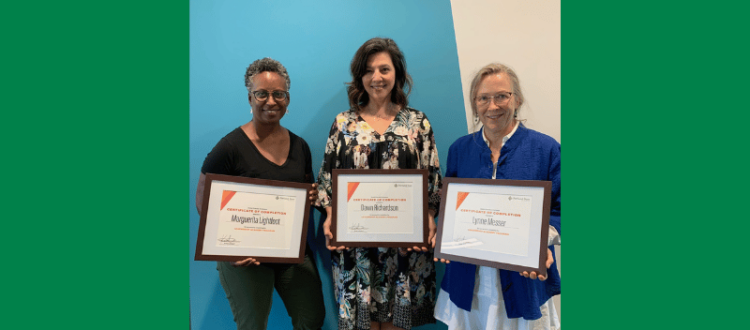 The Inaugural Cohort of PSU's Leadership Academy
The Inaugural cohort of PSU's Leadership Academy – with the support of PSU's Office of Global Diversity & Inclusion (GDI) and the leadership of GDI, Vice President Dr. Ame Lambert – formed in January 2022 to begin their journey together. Participants were nominated by their Deans; Founding Dean Bangsberg nominated Dawn Richardson, Marguerita Lightfoot, and Lynne Messer, all of whom participated in the academy and celebrated their graduation this month.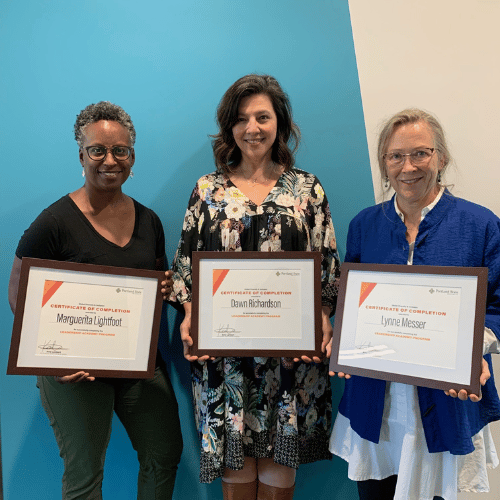 The Leadership Academy was designed by Dr. Lambert to support high performing and high potential PSU leaders interested in further exceling in their current roles and advancing to more senior level roles. Content for the academy was provided by expert instructors from the Center from Executive and Professional Education and other nationally recognized experts. The ultimate goals of the academy were to: (1) clarify participants' vision, strengths, goals and leadership aspirations; (2) strengthen existing capacities and develop new ones for senior leadership; (3) build and extend a network of leaders across PSU's campus; and, (4) enrich and change the campus through collective power and wisdom. The academy particularly emphasized and centered the perspectives of minoritized leaders in academia.
The cohort was fortunate to have PSU's President Ann Cudd join their graduation celebration on Wednesday September 13th, where graduates of the academy had the opportunity to share their thoughts and reflections on their experience and perspectives as leaders at a majority BIPOC student institution. Moving forward the inaugural cohort will work together to continue advancing social justice and diversity, equity, and inclusion at PSU and beyond.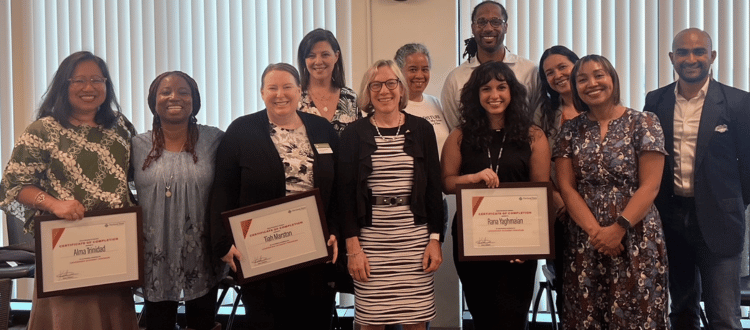 Congratulations to Associate Deans Richardson and Lightfoot, and to Professor Messer, for completing this work together. The SPH celebrates you and this achievement.