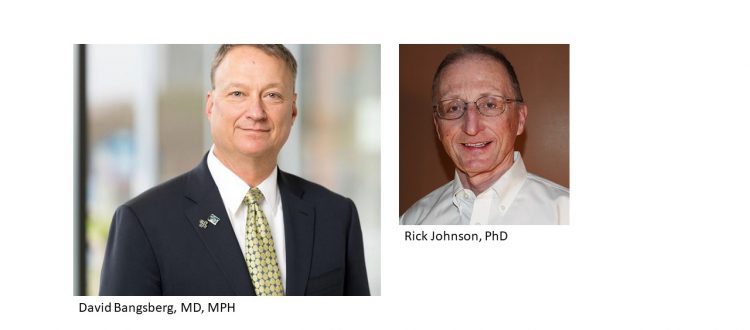 OHSU-PSU School of Public Health announces leadership transition
David Bangsberg, M.D., M.P.H. announced he will step down as dean of the OHSU-PSU School of Public Health (SPH), effective June 30, 2022. Dr. Bangsberg was named founding dean of the OHSU-PSU SPH in Sept. 2016. Dr. Rick Johnson has agreed to serve as interim dean while Dr. Susan Jeffords, Portland State University provost, and David Robinson, OHSU provost, undertake a national search to find a dean who will serve in a permanent capacity.
In messages dated January 27 and March 28, 2022, the provosts shared news of the School of Public Heath's leadership transition with OHSU and PSU community members. Excerpts have been condensed below. You can read the full text here and here.
David Bangsberg has provided exceptional leadership as the founding dean of OHSU-PSU School of Public Health, taking a nascent school into national prominence. We share our gratitude for his impactful leadership, vision, and profound commitments to racial equity and justice. Under his direction, enrollment in the school's MPH program has increased more than 76%, and has seen significant growth in the matriculation of students who identify as underrepresented or first-generation learners. Local and federal research funding for SPH faculty has also increased under his tenure, and now tops $26 million. And, as a part of its antiracism initiative, the school recently announced its inaugural Anti-Racism Faculty Fellowships.
Dr. Bangsberg has served as a beacon of collaboration at OHSU, PSU, and across the broader public health communities, as evidenced by the school's role in the Gun Violence as a Public Health Issue initiative; the opening of the Vanport Building, and the long-running Public Health Portland Style event series. Additionally, Dr. Bangsberg joined the Oregon Health Policy Board in 2017, and has served as its chair since 2020.
Following his tenure, Dr. Bangsberg and his family will return the San Francisco Bay Area. We ask you to join us in thanking Dr. Bangsberg for his commitment and contributions, and wish him well in future endeavors.
——
Dr. Rick Johnson has agreed to serve as interim dean of the SPH. Dr. Johnson is the associate dean for academic affairs and a professor in the OHSU-PSU SPH, and the former director of the School's Environmental Systems and Human Health program.
Dr. Johnson received his B.S. degree in chemistry from the University of Washington, and his M.S. and Ph.D. degrees from the Oregon Graduate Institute (now part of OHSU). He has been a faculty member at OHSU since 1985, and teaches in the areas of public health relating to climate change, drinking water availability, chemical and transport and transformation in the environment, and restoration of sites contaminated by industrial and other sources. His research interests include forecasting river water quality to protect drinking water sources, development of diagnostic tools for groundwater restoration, and vulnerability of groundwater sources of drinking water.
With more than three decades of experience as a faculty member at OHSU, and seven years with the SPH, Dr. Johnson will provide an experienced hand as the national search for a dean unfolds. We are grateful for his expertise, support and energy as the leadership of the School undergoes this transition.
"I thank both Interim Provost Robinson and Provost Jeffords for this opportunity, and for their support," Johnson said. "I look forward to guiding the School of Public Health through this period of transition, and am committed to maintaining the positive environment for our learners built by Dean Bangsberg."