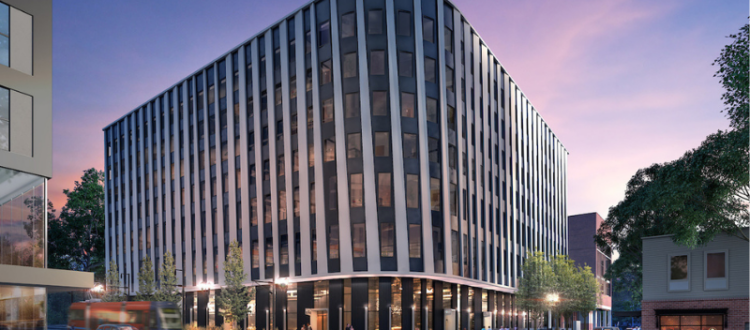 OHSU-PSU School of Public Health New Vanport Building
Visit the OHSU-PSU School of Public Health at the new Vanport Building in downtown Portland
When we are able to safely reopen the campuses this fall, you can visit the School of Public Health in its new home in the Vanport Building (1805 SW 4th Avenue) on the Portland State University in downtown Portland. Our faculty, staff, researchers, and students will be located on the 2nd, 5th, and 6th floors.
The Vanport Building (VB) is a seven-story condominium partnership between Portland State University, the City of Portland, Portland Community College, and Oregon Health & Science University with retail tenants on the ground floor. It occupies 3/4's of the block between SW 4th and 5th Avenues to its east and west and SW Montgomery & Harrison Streets to its north and south. It is the building to the east of the Academic and Student Recreation Center building. We're located right on the Max line, too.
VB opened for use in January 2021 and was designed by Portland's SRG Partnership at a cost of $111 million. The building's L-shaped design preserved the existing structures on the block while replacing a PSU parking lot that had been otherwise unimproved since the mid-1980s. It was designed collaboratively between the four owners to better connect workforce development, educational and economic opportunity, as well as providing public services. SPH's partners in the building are the City of Portland's Bureau of Planning and Sustainability, Portland Community College's Dental Services Programs), and PSU's College of Education. In addition to its academic, research, and civic facilities, it also features a dental-clinic and low-cost mental health services for the general public.
The Vanport Building is named after the City of Vanport, which was destroyed during the 1948 Memorial Day Flood. Constructed as part of the Kaiser Company's shipbuilding efforts in 1942, Vanport was the nation's largest wartime housing development and at its height was the second largest city in Oregon after Portland. Beginning in 1946, Vanport became the home to the Vanport Extension Center, the predecessor of Portland State University. Vanport was a portmanteau named after its location situated between Vancouver and Portland, which is now occupied by West Delta Park, Portland International Raceway, and Heron Lakes Golf Course.