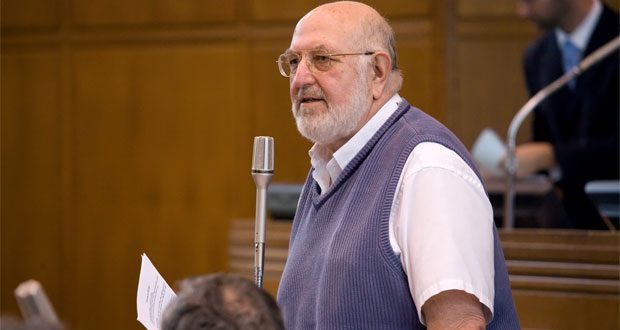 Oregon public health visionary State Representative Mitch Greenlick dies at age 85
Oregon lost a leading and influential voice in public health with the passing of State Representative Merwyn (Mitch) Greenlick, PhD. on Friday after a lengthy illness.
From 1990 until he made his first bid for the House in 2000, Greenlick was a professor and chairman of public health and preventive medicine at Oregon Health & Science University. A member of the Oregon House of Representatives since 2003, the retired medical researcher from OHSU and Kaiser Permanente was regarded by colleagues and lobbyists as the Legislature's top mind on public health.
"Mitch was my most important role model, mentor, and advisor upon returning home to Portland," said David Bangsberg, MPH, MD, Founding Dean of the OHSU-PSU School of Public Health.
Greenlick was an early champion of the creation of a school of public health in Portland and valued the new organizational model that was adopted with the collaboration of Oregon Health & Science University and Portland State University in 2016 to form the OHSU-PSU School of Public Health. Prior to that, he was the visionary behind the collaborative Oregon Master of Public Health program in 1994, then a partnership of Portland State University, Oregon Health & Science University, and Oregon State University.
In 2018, Greenlick was recognized by the School of Public Health with a Lifetime Achievement Award.
"Across a career as a health services researcher where he had many accomplishments," noted Sherril Gelmon, DrPH, Professor of Public Health and Director of the PhD in Health Systems and Health Policy Program at OHSU-PSU School of Public Health, "some of the most admirable, and at times audacious, were his many contributions once he was elected to public office."
"He was always generous with his time," Gelmon remembered, "and mentored many public health students, offering them insights into state health policy-making. He will be missed."
"I owe Mitch a lot for the opportunities he created for me to develop and grow professionally," noted Dennis McCarty, PhD., Professor Emeritus with OHSU-PSU SPH. "One of Mitch's adages was 'Give people a chance to fail. They may surprise you and succeed.' With his support and mentorship, I was able to succeed. He could be intemperate and scathing and he could be warm and huggee. He was complex. He will be missed."
"Mitch was an incredible mentor, friend, and inspiration," John McConnell, MA, MS, PhD, a Professor in the graduate level Health Management & Policy program at OHSU-PSU SPH, wrote on Twitter. "His spirit and continued push for a better healthcare system will carried on by those he's worked with."
Early Career
Greenlick earned a Bachelor's Degree in Pharmacy in 1957, and a Master's in Pharmacy Administration in 1960, both from Wayne State University in Detroit. He earned a doctorate in medical care organization in 1967 from the University of Michigan.
He came to Portland in 1964, while he was working on his doctorate, to start and later direct the Kaiser Permanente Center for Health Research. He became a vice president of Kaiser Foundation Hospital in 1981, and nine years later, took the professorship at OHSU. He sat on the boards of the Northwest Health Foundation and Community Action of Washington County. He was elected to the Institute of Medicine of the National Academy of Sciences when it was formed in 1971.
Extensively published as a researcher, Greenlick also authored "Managing Research: The Cat-Herd's Toolkit" in 2012.