Mission
The mission of the School of Public Health is to prepare a public health workforce, create new knowledge, address social determinants, and lead in the implementation of new approaches and policies to improve the health of populations.
Vision
Through education, research, and community engagement, the School of Public Health will be a leader in promoting health and eliminating disparities in Oregon and beyond.
Values
The OHSU-PSU School of Public Health is an academic partnership that values:
Education – Excellence in student education and faculty development through collaborative leadership and scholarship.
Science – Innovative and impactful research conducted with the highest degree of integrity.
Responsibility – Commitment to health equality through diversity, social justice and community engagement.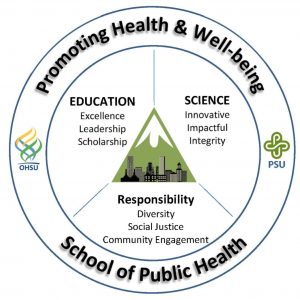 Goals
Prepare graduates for the public health workforce competent to address causes of health and disease in professional practice, policy, and research
Conduct and disseminate high-quality research/scholarship to optimize population health throughout Portland, the state of Oregon, and beyond
Engage communities to advance population health through workforce development, service, outreach, and partnerships
Sustain and enhance a thriving academic community that embraces diversity in ideas, expertise, and experiences
Core Competencies
The School will strive to implement its vision, mission, and goals by creating a workforce that is competent in community engagement, and a faculty that advances knowledge through appropriate research directed toward its local, international, and special communities. To this end, all educational programs in the School of Public Health will have, at their core, courses that educate all students in the following core competencies. All graduates of the School of Public Health will act ethically and demonstrate cultural competence to:
Integrate social determinants into public health science, practice and policy
Engage with communities to improve population health
Apply public health knowledge and skills to eliminate health disparities