Remote Learning Continues for Spring Term 2021
Following the guidance of our two partner universities, Oregon Health & Science University and Portland State University, all classes at the School of Public Health will continue to be held remotely for Spring Term 2021.
Registration for the Spring 2021 term opens on Monday, February 15, 2021. Classes begin on Monday, March 29, 2021. The School of Public Health spring course schedule is available now on the SPH website here: https://ohsu-psu-sph.org/course-directory/. Further information on registration is below or you can visit the SPH Course Registration webpage.
Over the past year, our students, faculty, and staff have risen to the challenges of these extraordinary times. Our universities have taken steps to provide expanded academic support, technology needs, health & counseling services, and other resources to ensure students' academic success. In addition, staff at both universities have worked with community partners to help ensure the physical and mental well-being of students, including addressing the non-academic needs of our students, including food, housing, and more. Please follow these links to find helpful academic and non-academic information and support for graduate students at Oregon Health & Science University and for undergraduate students at Portland State University. SPH has also provided a centralized online site for additional resources.
While the offices at SPH will be physically closed until further notice, our staff is working remotely. Don't hesitate to reach out to sphcomms@ohsu.edu or to sphadmin@psu.edu with any specific questions or concerns.
If you have any questions about what the spring term course format adaptations mean for you or your academic program, please reach out to your Academic Advisor or Program Director, or to Associate Dean for Academic Affairs Rick Johnson (johnsori@ohsu.edu), Associate Dean of Student Affairs Liana Winett (lwinett@pdx.edu), or Assistant Dean for Undergraduate Affairs Belinda Zeidler (zeidlerb@pdx.edu). If you feel you may need assistance with accessibility to support your success, please contact Associate Dean of Student Affairs Liana Winett (lwinett@pdx.edu).
We understand that another term of remote learning and time spent in social distancing is challenging, both logistically and emotionally. But, as public health practitioners, we must continue to do everything we can to reduce the spread of COVID‑19 and to protect ourselves, each other, and our community. So let us each continue to do our part to mitigate risk, to actively demonstrate our care for the physical and emotional well‑being of others, and to rally as a community to ensure a successful winter term.
REGISTRATION INFORMATION
Add Drop Deadlines
PSU Registrants (dual MPH/MSW and MPH/MURP students;MPH HP and MP HMP students who began prior to Fall 2016; PhD CH and HS&P students who began prior to Fall 2017) follow PSU deadlines.
OHSU Registrants (all other students) follow OHSU deadlines. IMPORTANT: late registration requests, including for "by-arrangement" courses, cannot be accommodated without approval from the Provost's Office.
Registering for School of Public Health classes (subject codes BSTA, CPH, EPI, ESHH, HSMP, and PHE)
PSU Registrants register through PSU Banweb.  For courses not listed in Banweb (most courses with BSTA, CPH, EPI, or ESHH subject codes), contact sphregistration@ohsu.edu for assistance.
OHSU Registrants register through OHSU's Student Information System (SIS).
Registering for non-School of Public Health classes:
Most non-School of Public Health courses must be requested via special registration (see registration guide at bottom of this message), and registration is not guaranteed. Because special registration is a manual process, requests must be received by the deadline.  Registration requests for the Spring 2021 will be accepted from Monday, February 15, through Monday, March 8.  Late requests cannot be accommodated.
To submit a special registration request:
Enter complete course information into the Registration Request form, available on the SPH website at https://ohsu-psu-sph.org/graduate/forms/and attached to this message.
Obtain instructor and advisor/program director permission, if required – refer to the registration guide below.
Submit form as an attachment to sphregistration@ohsu.edu.
Please use the subject line "Registration Request: [Course Name], [Your Name]." 
Submitting a request does not guarantee enrollment. Your request will be reviewed. If approved, and if space is available, you will either be registered for the course by staff, or you will receive instructions on how to complete registration yourself.
Course Descriptions, Schedules, and Locations
All School of Public Health graduate courses will be conducted remotely during the Spring 2021 term.
SPH Course Schedule: Lists all SPH courses. Click on the "SP21 Grad Courses" link to view.  Note: this schedule is for planning purposes only.  Once registration opens, be sure to check OHSU's SISweb or PSU's Banweb.
OHSU SISweb: Lists all OHSU courses, and all SPH courses, regardless of whether they are offered through OHSU or PSU. SPH courses are listed under the following subjects: Biostatistics (BSTA); Community and Public Health (CPH); Environmental Syst Human Health (ESHH); Epidemiology (EPI); PSU: Health Behavior (PHE); and PSU: Hlth Systm Mngmnt & Policy (HMP).
PSU BanWeb: Lists all PSU courses, and SPH courses that are offered through PSU. School of Public Health courses are listed under the following subjects: Biostatistics (BSTA), Epidemiology (EPI); Public Health Behavior (PHE); and Health Systems Mgmnt & Policy (HMP).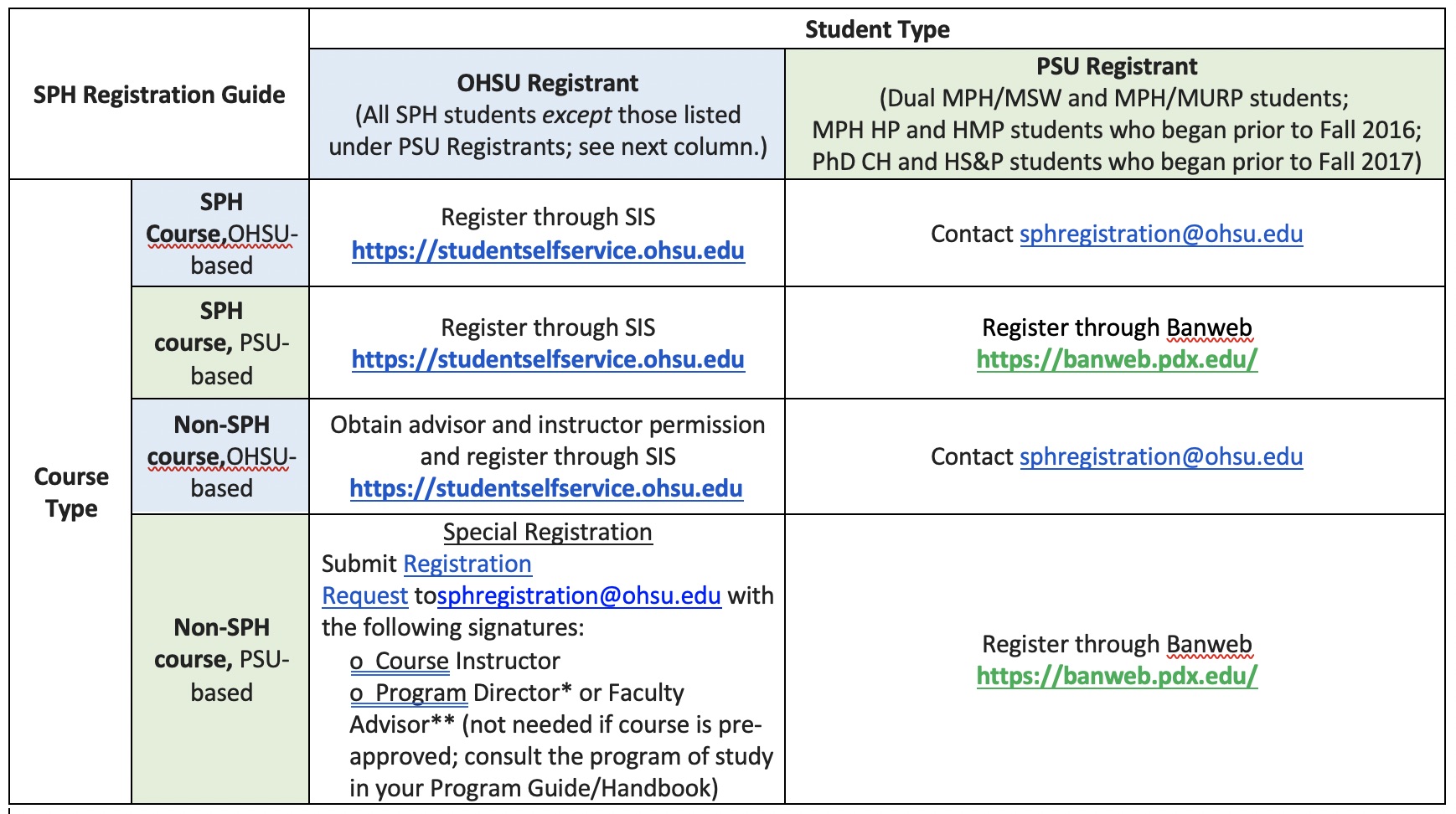 *Cert PH, Cert Biostats, MS Biostats, MPH Biostats, MPH ESHH, MPH Epi, MPH PH Practice, PhD Epi, MD/MPH
**MPH Hlth Promtn, MPH Hlth Mgmt & Policy, MPH/MSW, MPH/MURP, MA/MS Hlth Stud, PhD Comm Hlth, PhD Hlth Sys & Policy