Learning doesn't only happen in the classroom.
Across the universities, School of Public Health students have abundant extracurricular opportunities to support their personal growth and professional development.
Get Involved in PSU Student Groups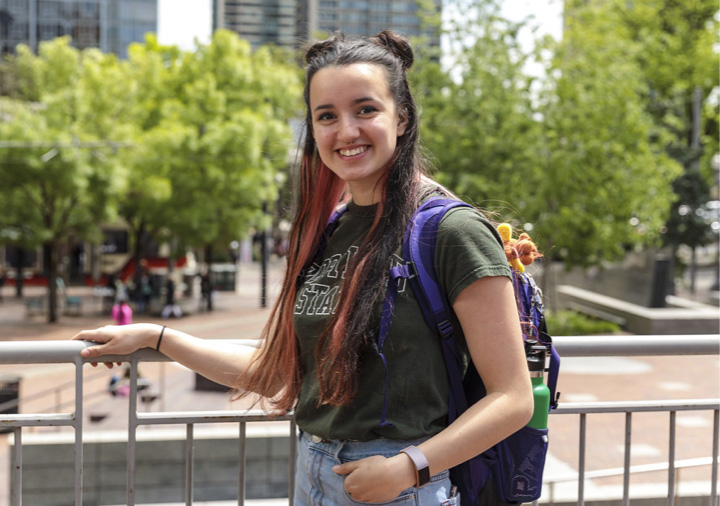 Student Government and Committees
Associated Students of Portland State University
ASPSU serves as your Student Government, representing 27,000 students. As your representatives to the University administration, they:
Advocate for and represent the interest of students before internal and external bodies;
Facilitate formal needs of communication and interaction between students, student organizations, faculty and University administration;
Identify and develop services not offered by other divisions of the University;
Provide a process for students to fully participate in the allocation of student incidental fees.
To learn more or get involved.
The All-Hill Council is OHSU's student government body, and is made of up of elected student representatives from the College of Pharmacy, School of Dentistry, School of Medicine, School of Nursing, School of Public Health and the Graduate Student Organization. Meetings are held the second Friday of the month at 12:00 pm and are open to all. In addition to facilitating communication about OHSU news and policies to students and acting as a voice of students to administrators, the Council also provides funding for events bringing students together across schools and programs. Learn more on Student Central, or contact: scouncil@ohsu.edu
The Student Leadership Council Student is a formal part of the SPH governance structure. Student Representatives participate in and host curricular activities and extra-curricular events, and represent the unique interests of their respective programs' student populations. The Student Leadership Council offers opportunities to develop leadership skills, become engaged in community health initiatives, and network with other students, alumni, and employers. All Student Representatives are nominated (by self, peers, or faculty), and are selected for the positions by the faculty leadership of the various degree programs. Student representatives serve two-year, staggered terms, and meet regularly with the Associate Dean for Student Affairs & Community Engagement to discuss program operations, student needs, and strategic planning. Student Representatives also serve on School of Public Health committees, including the Student Affairs; Community Engagement; Diversity, Equity, and Inclusion; and Academic Policy and Curriculum Committees.
The OHSU Student Health Advisory Committee (SHAC) provides a forum for students to work alongside Student Health & Wellness Center staff to identify and support student health and wellness needs.  The committee consists of student representatives appointed or elected by their respective program/school; school faculty and staff; and stakeholders from across OHSU (Registrar, Financial Aid, etc.). The committee meets monthly during the academic year.
Student Interest Groups
Student interest groups provide opportunities for students to build meaningful connections with others who share similar interests.