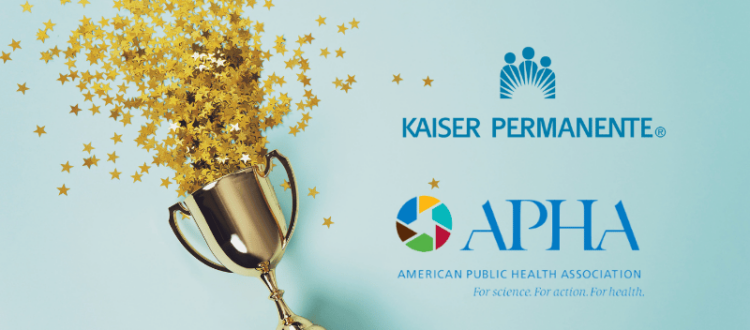 Congratulations Sylvia Rivera on Receiving the 2023-24 APHA Kaiser Permanente Community Health Fellowship!
We are thrilled to announce that Sylvia Rivera, a recent alumna of the OHSU-PSU School of Public Health Master's in Public Health in Health Promotion, has been selected as a recipient of the prestigious 2023-24 APHA Kaiser Permanente Community Health Fellowship. This is a remarkable achievement, and we couldn't be prouder of Sylvia's dedication and commitment to public health.
The APHA Kaiser Permanente Community Health Fellowship is a highly competitive program that offers early-career professionals with a conferred MPH, DrPH, or PhD in public health the opportunity to gain immersive work experience. Sylvia Rivera will be embarking on a year-long journey, receiving a generous stipend to support her during this transformative experience.
As a Fellow, Sylvia will engage in implementing vital programs and high-impact projects at Kaiser Permanente Northwest, contributing her skills and expertise to make a meaningful difference in the community.
Sylvia Rivera, known by the pronouns she/her, is a remarkable Afro-Puerto Rican storyteller, advocate, and Registered Nurse. Her background includes significant experience in healthcare, having worked at a level 1 trauma center, an STD clinic, and having supervised a medical team at a social services agency and federally qualified health center.
What truly sets Sylvia apart is her profound understanding of public health, which is deeply informed by her engagement with coloniality, Black feminist, Afro-Caribbean, Latinx, and decolonial theoretical traditions. She has been involved in numerous impactful projects, including a public health and civic literacy project, a YPAR decolonizing data hub project, a public health poetry project with BIPOC youth, and a public health mixtape project, for which she serves as the lead analyst and podcast coordinator.
Sylvia is an advocate for public health initiatives that are rooted in the community, combining creative arts with social practice, and centering the voices and stories of individuals from marginalized backgrounds.
We are confident that Sylvia Rivera will excel in her role as an APHA Kaiser Permanente Community Health Fellow and continue to be an inspiring force in the field of public health.